There has been heaps happening with the most exciting being I have finally released a CD accompanied by Eric K. Betts on blues harp. This has been a while coming. I have been humbled by the feedback and requests for interviews.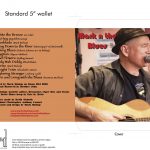 We have also been privileged to play at two Tav's Blues Partys at the Castle Hill Tavern to great feedback and crowds. Thanks for the support guys. There were some great acts on the lineup.
I have updated the gig list for the rest of the year and we are basically booked out leaving some space for some family time. We would love to see you at a gig before the end of the year.
have a great one guys.