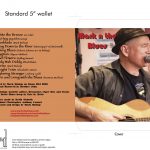 Hey guys I have finally put out a CD. If you want a copy either grab one for $10 at a gig or contact me on info@markntheblues.com and I can post you one out for $12. I will send you my bank details when I get your email.
The CD is basically what you hear live with some of our best cover by Robert Johnson and Mississippi Fred McDowell along with some of my original instrumentals. There songs on the acoustic, resonator and cigar box made for me by Keith Nicholson. On blues harp I am accompanied by the great Eric K. Betts
Or you can PayPal the money to me.